Non-communicable diseases in humanitarian settings: ten essential questions
Conflict and Health
2017
11:17
Received: 12 December 2016
Accepted: 19 July 2017
Published: 17 September 2017
Abstract
Non-communicable diseases (NCDs) represent the primary cause of morbidity and mortality worldwide. Specific attention needs to be given in fragile and crisis-affected contexts, where health systems have even more difficulties in addressing and managing these diseases. Humanitarian actors intervening in crisis situations increasingly include NCD management in the services they support and provide. This review aims at presenting a series of questions that humanitarian agencies could consider when addressing NCDs in humanitarian crises. They include, among others, what conditions to address and for which target population, how to ensure continuity of care, which guidelines and medications to use, and what can be done beyond classical management of NCDs.
Research and evidence are lacking on how to address care effectively for NCDs in emergencies. Therefore, advocacy is needed for NCD-oriented research so as to make interventions more effective and sustainable. No government or single agency can address NCDs in humanitarian crises alone. Strong leadership and partnerships between humanitarian actors, health providers, government bodies, research and academic institutions are required. Only a coordinated multi-disciplinary and multi-stakeholder approach will achieve the required impact for affected populations.
Keywords
Non-communicable diseasesChronic diseasesConflictsCrisesHumanitarian emergenciesContinuum of careEthicsHumanitarian agencies
Background
Non-communicable diseases, (NCDs), are the leading cause of mortality worldwide with 38 million deaths, (68%), mainly due to cardiovascular diseases, diabetes, chronic respiratory diseases and cancer [
1
]. Nearly three quarters of NCD-related deaths, (28 million), occur in low and middle-income countries, (LMICs). In addition, in many LMICs, the burden of NCDs is concurrent to the burden of infectious diseases causing a double burden of disease and stretching the capacities of weak health care systems [
2
]. In more than half of the countries where the International Committee of the Red Cross, (ICRC), conducts its main operations, the prevalence of diabetes among the population above 18 years is higher than 10%.
(
Fig.
1
: Map with 15 main ICRC operations and distribution of diabetes).
The epidemiological transition with a change from infectious to non-communicable diseases has obliged the ICRC over time to adjust its medical response to increasing needs, commencing in the Balkans, followed by Lebanon, Pakistan, Liberia and Sudan in 2004 and later Yemen, Syria and Iraq and countries of the region that receive refugees [
3
]. In those countries, diabetes is the cause of more than 25% of amputations in 1/3 of the centres in the cohort of amputees in ICRC's Physical Rehabilitation Centres [
4
].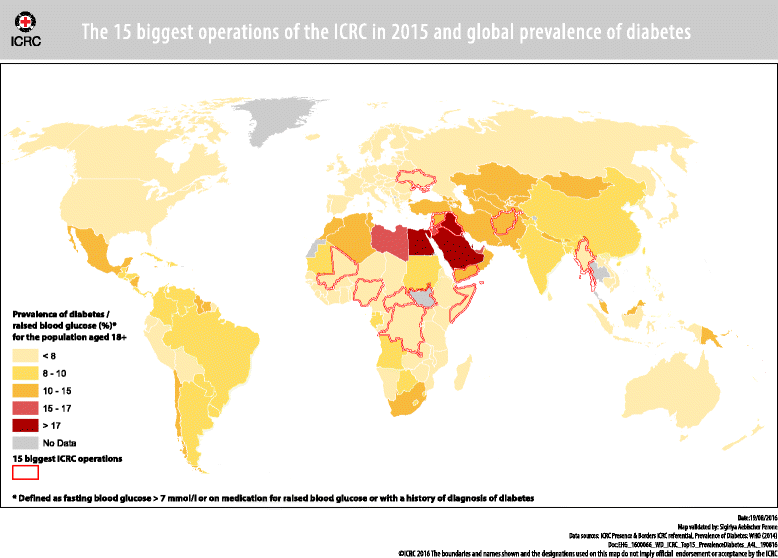 Humanitarian emergencies or crises can result from internal or external conflicts, natural disasters, epidemic or pandemic diseases, and complex emergencies [5]. Levels range from an emerging crisis, (essential needs may or may not be covered), to an acute crisis, (or emergency phase of a crisis where some basic needs are no longer covered), a chronic crisis (insufficient coverage of basic needs, a return to an acute crisis is possible), and post-crisis, (essential needs are covered by structures whose viability remains fragile) [6]. These emergencies cause disruption of access to existing resources and further impair the capacity of services to meet essential needs due to the break down in authority, health care systems, and/or societal cohesiveness.
The aim of the humanitarian response is to use a public health approach when assisting persons affected by a crisis. In emergencies, the priority is to minimise mortality as far as possible and to address the most urgent needs. The scope of the response depends on the type and phase of the crisis, the number of affected people and the pre-existing burden of disease and fragility.
LMICs are affected disproportionally by humanitarian crises, often secondary to armed conflict. In these contexts, already fragile health care systems are often not able to respond to the sudden increase in acute and chronic care needs in a timely and proper manner [7]. For the population, in addition to the risk of acute illnesses directly related to the crisis, the risk of exacerbating pre-existing chronic conditions, and suffering from NCD complications, increases substantially [8, 9].
Besides the direct impact of armed conflict on the health status of the population, (due to death, injury and disability), there are also indirect effects, such as displacement, economic loss, and psychological consequences that further aggravate the situation. Humanitarian emergencies at large put pressure on health systems, which, in order to cope with urgent requirements, often have to neglect the management of chronic diseases [10]. Hayman et al. [11] found that acute NCD complications, such as myocardial infarction, were higher in conflict settings and after natural disasters than in pre-emergency circumstances.
In natural disasters the pattern of disease greatly differs according to the nature of the disaster. For example, there are differences in morbidity and mortality between an earthquake and a tsunami with a higher prevalence of severe injuries in an earthquake [12], as well as between rural or urban areas. Trauma care overburdens health systems in natural disasters essentially at their onset [13] in addition to underlying burden of NCDs requiring continuous care [14–16].
Health systems might be disrupted as a consequence of the disasters, irrespective of resulting pattern of disease, or not being able to face the number of casualties. In such cases the reallocation of resources to cope with increased urgent demands might pose challenges to the continuity of care for persons with NCDs [17].
In addition, different populations have different needs. While all persons affected by a conflict endure the disruption of routine health activities [10, 18] and are exposed to overwhelmed, under-equipped and under-staffed health care services [19], people directly affected by conflict, and still living in conflict zones face additionally the risk of violence from the conflict thereby causing an extra burden on the health system with need of emergency surgical care. Today, moreover, a higher number of internally displaced persons, (IDPs), and refugees are living in urban settings rather than in camps [20]. This requires humanitarian agencies to adapt their traditional response in order to provide optimal interventions for NCDs. For urban settings, wherever possible the existing Ministry of Health, (MoH), primary care health structures should be reinforced with human and material resources so as to increase their capacity. However in camps, humanitarian organisations may need to establish ad hoc primary care health structures.
Included in the WHO's NCD Global Action Plan (GAP) are the following statements regarding NCDs and the humanitarian response: [
21
]
.
"Improve the availability of life-saving technologies and essential medicines for managing NCDs in the initial phase of emergency response."
"It must be ensured that the use of these services does not expose the users to financial hardship, including in cases of ensuring the continuity of care in the aftermath of emergencies and disasters."
The GAP also prioritises cardiovascular diseases, diabetes, cancer and chronic respiratory diseases, as being the main NCDs that the global health community needs to address.
Despite these statements, NCDs to date have not received the necessary attention in emergency contexts [9]. Although humanitarian actors have started including NCDs in their programming, the challenges in emergency settings abound. These chronic conditions require approaches that are different from acute condition approaches, and often demand long term commitment [22].
Every humanitarian emergency and setting has its specific needs and priorities. Need in NCD care is present in both Syrian refugees in Jordan [
23
], and in sub-Saharan settings, (although different). In addition, Mali for example, NCDs have not been included in either an annual global response plan or to an emergency response, thereby creating potentially fatal consequences for patients [
24
]. Nevertheless, there are underlying commonalities which need to be addressed. This review therefore aims at presenting ten fundamental questions that humanitarian agencies should consider when addressing NCDs in humanitarian crises. The focus being on acute and chronic crises, (see Table
1
). Given that humanitarian response includes emergency interventions, (acute crisis), as well as long-term response, (chronic crisis), answering the ten questions needs to be repeated when moving from one level to the other. Different weight is given to each question depending on the level of the crisis with larger scope in a chronic crisis.
Table 1
Ten essential questions for developing a humanitarian response to NCDs
| | |
| --- | --- |
| 1. What are the existing capacities of the local health system? | |
| 2. Which NCDs to address? | |
| 3. Who is the target population? | |
| 4. What kind of interventions needed to ensure continuum and continuity of care? | |
| 5. Which algorithms or guidelines to use? | |
| 6. What medications to be integrated in the basic essential drug list? | |
| 7. What are the ethical implications? | |
| 8. How to ensure accountability to patients? | |
| 9. How to monitor interventions? | |
| 10. What to do beyond provision of health services for "classical" NCDs? | |
Conclusions
Addressing the global burden of NCDs in emergencies is a challenging task. When planning a relief operation in a country, humanitarian actors could consider 10 key questions to help guiding interventions. The choice of intervention depends on the nature and impact of the crisis, the existing health system, (previous and current), available resources - including new actors - and access of patients to healthcare. Prioritisation is needed with regard to which NCDs to address based on the burden of disease in each setting and gaps in the provision of health care. Interventions should be context specific and tailored to the target population, (e.g. interventions for a refugee camp in Kenya vs refugees living in urban settings in Lebanon). NCDs are chronic in nature and demand long-term commitment beyond acute care provision. The focus of interventions in acute crises is management of acute conditions and patients' access to treatment, whereas in stable settings, the management of NCDs has a strong focus on preventive activities, which are not feasible in crises. A patient-centred approach is critical. This includes educating patients on self-management, provision of a stock of essential medicines and information on where to find additional care. Interventions need to be monitored using simple indicators to assess their effectiveness. Safe access to care and support to health staff are required for solid and sustained health interventions in emergencies. Finally, in order to address NCDs in a comprehensive way in humanitarian emergencies, a multi-stakeholder approach that includes health care providers, governments, humanitarian agencies and academic institutions is required.
Abbreviations
GAP:

Global Action Plan
ICRC:

International Committee of the Red Cross
IEHK:

Interagency Emergency Health Kit
LMIC:

Low and middle-income countries
mhGAP:

Mental Health Gap Action Programme
MoH:

Ministry of Health
MSF:

Médecins Sans Frontières
NCD:

Non-communicable diseases
PCI:

Primary Care International
PHC:

Primary Health Care
RAPIA:

Rapid assessment protocols for insulin access
SARA:

Service Availability and Readiness Assessment
UN:

United Nations
UNHCR:

United Nations High Commissioner for Refugees
UNWRA:

United Nations Relief and Works Agency for Palestine Refugees in the Near East
WHO:

World Health Organization
Declarations
Acknowledgements
Not applicable.
Availability of data and materials
Data sharing is not applicable to this article as no datasets were generated or analysed during the current study.
Authors' contributions
All authors contributed to the concept of the paper and the analysis. SA drafted the original manuscript with input from all other authors to finalize this manuscript. All authors read and approved the final manuscript.
Ethics approval and consent to participate
Not applicable.
Consent for publication
Not applicable.
Competing interests
All authors are staff of the International Committee of the Red Cross (ICRC) and/or of Division of Tropical and Humanitarian Medicine of the Geneva University hospitals (HUG) and paid by the ICRC and/or HUG for their involvement humanitarian projects.
Publisher's Note
Springer Nature remains neutral with regard to jurisdictional claims in published maps and institutional affiliations.
Open AccessThis article is distributed under the terms of the Creative Commons Attribution 4.0 International License (http://creativecommons.org/licenses/by/4.0/), which permits unrestricted use, distribution, and reproduction in any medium, provided you give appropriate credit to the original author(s) and the source, provide a link to the Creative Commons license, and indicate if changes were made. The Creative Commons Public Domain Dedication waiver (http://creativecommons.org/publicdomain/zero/1.0/) applies to the data made available in this article, unless otherwise stated.
Authors' Affiliations
(1)
Health Unit, International Committee of the Red Cross (ICRC), Geneva, Switzerland
(2)
Division of Tropical and Humanitarian Medicine, Geneva University Hospitals, Geneva, Switzerland
(3)
Division of Tropical and Humanitarian Medicine, Geneva University Hospitals, Faculty of Medicine, University of Geneva, Geneva, Switzerland