Understanding processes of risk and protection that shape the sexual and reproductive health of young women affected by conflict: the price of protection
Conflict and Health
2017
11:15
Received: 12 August 2016
Accepted: 23 June 2017
Published: 17 August 2017
Abstract
Background
It is assumed that knowing what puts young women at risk of poor sexual health outcomes and, in turn, what protects them against these outcomes, will enable greater targeted protection as well as help in designing more effective programmes. Accordingly, efforts have been directed towards mapping risk and protective factors onto general ecological frameworks, but these currently do not take into account the context of modern armed conflict. A literature overview approach was used to identify SRH related risk and protective factors specifically for young women affected by modern armed conflict.
Processes of risk and protection
A range of keywords were used to identify academic articles which explored the sexual and reproductive health needs of young women affected by modern armed conflict. Selected articles were read to identify risk and protective factors in relation to sexual and reproductive health. While no articles explicitly identified 'risk' or 'protective' factors, we were able to extrapolate these through a thorough engagement with the text. However, we found that it was difficult to identify factors as either 'risky' or 'protective', with many having the capacity to be both risky and protective (i.e. refugee camps or family). Therefore, using an ecological model, six environments that impact upon young women's lives in contexts of modern armed conflict are used to illustrate the dynamic and complex operation of risk and protection – highlighting processes of protection and the 'trade-offs' between risks.
Conclusion
We conclude that there are no simple formulaic risk/protection patterns to be applied in every conflict and post-conflict context. Instead, there needs to be greater recognition of the 'processes' of protection, including the role of 'trade-offs' (what we term as 'protection at a price'), in order to further effective policy and practical responses to improve sexual and reproductive health outcomes during or following armed conflict. Focus on specific 'factors' (such as 'female headed household') takes attention away from the processes through which factors manifest themselves and which often determine whether the factor will later be considered 'risk inducing' or protective.
Keywords
Sexual and reproductive healthRiskProtectionResilienceGenderYoung womenEcological frameworkPost-conflict care
Background
Blum and Mmari (2005) propose a conceptual framework which locates risk and protective factors associated with the sexual and reproductive health (SRH) of young people in developing countries in an ecological model [1]. This assumes that knowing what factors are likely to increase poor SRH outcomes for young women (including early first sex or early first birth), and how they operate, will help target young women at risk of negative health outcomes and help to design more effective programmes. The framework views young people as living in multiple milieus (macro/institutional, community, school, family, peers and individual), each of which may be a source of both risk and protection. This model is presented as functioning across developing contexts. Predominately, work on SRH has taken a population approach, with limited consideration of its suitability for application to specific contexts, such as conflict. However, a small body of emerging evidence suggests that processes of risk and protection are, to a large extent, contextually determined and need to be understood in relation to distinct groups of people in specific contexts [2–4]. While there has been some exploration of specific risk and protective factors in relation to conflict and the short or long term impacts upon some aspects of health [5–7], based on this literature overview, there appears to be little that has been specific to SRH and young women.
The inter-agency field manual on reproductive health in humanitarian settings highlights the importance of identifying protective factors within initial assessments; however, little is known as to how conflict may undermine protective processes or increase the 'trade-off' between risks that may be undertaken to increase protection [8]. Conflict is likely to have a powerful impact on the ecology of young people and an ecological model enables a more comprehensive exploration of protective processes, with socio-cultural contexts becoming the focus of attention rather than individual attributes [7].
Risk and risk factors are often used and understood as notions of statistical risk, and commonly associated with increasing the likelihoods of negative outcomes or problem behaviours. Protective factors operate in the context of risk and may be understood as the resources that support and assist an individual, family or community to manage, restrict and/ or overcome difficulties and adversity, and reduce risk [9]. Such conceptualisations of risk and protective factors suggest that they are static and generalisable factors. However, the dynamic nature of a factor, and whether or how it serves to protect or increase risk, can only be understood when wider processes of risk and protection are identified (i.e. how it came to be that certain choices were made or that a particular context occurred). This may involve several dynamic factors, as well as combinations of risk and protective factors (or a trade-off between them), each of which can produce different outcomes for any individual.
Adopting this position, and building upon Blum and Mmari's (2005) ecological framework [1], an overview of the risk and protective factors highlighted by the literature on the young women's SRH in conflict is presented. Yet rather than describing a neat set of risk and protective factors that can be used to underpin policy and practice responses, we present the complex processes of protection that often dictate whether a context or choice is risk inducing or protective. Through this work, we argue that we need to better understand and pay more attention to these processes, the trade-offs which occur and the price often paid by young women through it.
Methods
This paper adopts a literature overview approach (Grant and Booth 2009), providing a narrative of the relevant literature [
10
]. A search of the literature was performed using Web of Knowledge, limited to the title and abstract. The search period was from 2000 to 2013, and only papers in English were included. The search was driven by the overarching question 'What are the risk and protective factors associated with the sexual and reproductive health of young women in contexts of armed conflict?' The search strategy combined terms according to four broad themes:
Conflict: conflict OR conflict affected OR fragile states OR war OR trauma OR violence

Age: child* OR youth OR adolescen* OR teen OR young person*

Conflict affected countries: Afghanistan OR Angola OR Burundi OR Central African Republic OR Chad OR DRC OR Congo OR Cote d'Ivoire OR Eritrea OR Guinea OR Guinea-Bissau OR Liberia OR Mali OR Myanmar OR Burma OR Nepal OR Sierra Leone OR Sri Lanka OR Somalia OR Sudan OR South Sudan OR Timer-Leste OR Togo OR West Bank OR Gaza OR Iraq OR Libya OR Syria

Sexual and reproductive health: sexual and reproductive health OR childbearing OR pregnancy OR sexual activity OR early marriage
The search also involved hand searches of relevant journals, and the following up of citations, appropriate grey literature and key authors. Different types of literature (quantitative, qualitative, conceptual and discussion pieces, and grey literature) were included. The initial inclusion criteria focused on literature that explicatively discussed conflict, and sexual and reproductive health in relation to this. In addition, we restricted our focus to literature concerned with females and included those of any age between 8 and 18 years. Where age ranges were not clarified, articles that made references to adolescents, girls or youth were retained.
Identified literature was read to ascertain risk and protective factors associated with various poor sexual and reproductive health care outcomes, such as unmet need for contraception, early age at first birth, maternal mortality, infant mortality and sexually transmitted diseases. No explicit appraisal of the methodological quality of each piece was undertaken. Whilst we found little research that explicitly identified 'risk' and 'protective' factors, these were extrapolated by a thorough reading of the text. However, we found that these extrapolated factors were not clear cut, and many factors were found to be both protective and risky; for example, refugee camps offer protection against some poor sexual health outcomes through access to services but they can also be risky environments for SRH, especially in relation to sexual violence. An ecological framework of risk and protective factors, based on the pre-populated model used by Blum and Mmari (2005) (Figure
1
) was used to analyse the literature thematically and present the results [
1
]. Identified factors were mapped according to six environments that were also used by Blum and Mmari; macro/institutional; Community; school; family; peer and individual. In a second stage, further literature was identified to populate certain levels of the framework, which were under-represented in the literature accessed thus far. For the macro/institutional level, for example, we draw on literature that related to sexual and reproductive health in conflict more generally, and the consequences of conflict on health systems where these could also impact on young women. Literature that describes the impact of conflict on education was used at the school level. Finally, literature concerned with the consequences of conflict on peer relationships and the civic participation of young people was included at the peer level.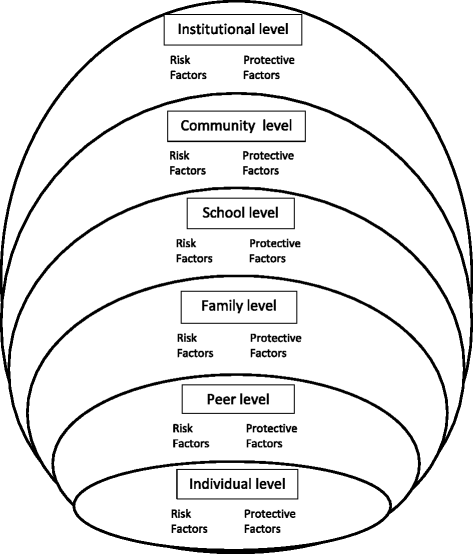 Processes of risk and protection
Discussion
The literature highlights the complex nature of how armed conflict impacts the different environments which increase or reduce the risk of poor SRH outcomes for young women – see Fig.
2
for an illustrated version which populates the ecological framework with the risk and protective factors identified in the literature that are associated with poor sexual and reproductive health outcomes in contexts of armed conflict. While there are some similarities with risk and protective factors identified by Blum and Mmari, 2005, it is clear that general models of SRH need reconceptualising in contexts of armed conflict [
1
]. Diversity in patterns of armed conflict, even within a single country, brings into question presumed protection offered by factors such as proximity to family, access to health professionals or school attendance [
60
]. While risk factors such as 'alcohol use' or 'knowing where to buy condoms' or 'perceived risk of contracting HIV', for example, were not discussed in the literature reviewed, it can be assumed that the nature of these factors will be impacted by the context of armed conflict. Whilst the literature shows that conflict changes the ecological positions of young people, a lack of consensus exists around the protective nature of some of the factors discussed above. This raises questions of how we understand processes of risk and protection (i.e. how it came to be that certain choices were made/certain outcomes occurred). Knowledge of risk and protection has evolved separately, yet viewing them as distinct entities is unhelpful because of the often complex presence of both risk and protective factors which impact on one another. The factors and environments raised above may act to both expose to, and/or increase, or to protect from risk depending on the individual and context [
61
,
62
]. This is well illustrated by the context of family relationships discussed earlier, which have been shown to be protective against sexual violence at times, while at other times put young women at increased risk of sexual violence through forced or early marriage, or transactional sex. In addition, factors which prevent some poor outcomes like sexual violence, may at the same time increase risk of other poor outcomes like early marriage and early childbearing. Simple binaries need to be challenged, accepting the concepts' inherent complexities both in relationship to each other and in resilient outcomes. Acceptance that there is no formulaic risk/protection pattern (i.e. a static set of 'risk' and 'protective' factors which are distinct and categorised) that can be applied for young women in every conflict-affected community is a starting point. This reflects not just the fact that post conflict settings are 'different', but rather that the concepts of risk and protection are - by their very nature - dynamic, fluid and contextual.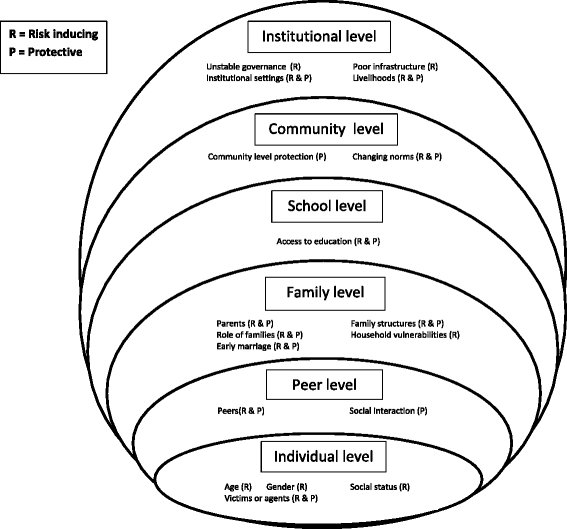 Rather than focusing on a static list of risk and protective factors, what appear to be important in these contexts are the 'processes' of protection - the role of 'trade-offs' and the perceived 'loss and gains' of actions and choices, the prioritisation of risks in understanding protection strategies, and the 'price of protection'. The literature clearly shows that there is often a 'cost' to securing protection, for example, entering marriage at an early age to ensure security which is often shortly followed by a risky early pregnancy, resulting in the prioritisation of some risks over others. In contexts of conflict, for example, physical safety of oneself or family may be prioritised over immediate or longer-term sexual risks or social exclusion following early motherhood. Starvation or death comes today, whereas the consequences of sexual risks may seem distant [36]. Highlighted is the short and long term nature of protective strategies, as well as the 'price' of protection. Risks are often multiple and cumulative, exacerbating the impact of each stressor; this can lead to a spiral of overwhelming risk and adversity exposure [63].
When young women have few choices and resources due to the impact of conflict on protective resources previously available from macro or community environments, sexuality remains as one potential resource which they can draw upon [27]. At the highest levels of risk, protection is either non-existent or fails to counteract the 'poisonous effects of extreme adversity' (p.140) [64]. Conflict renders such concepts as 'rights' and 'dignities of citizenship' as obsolete or secondary to saving lives and maintaining essential services [20, 65].
Questions are also raised as to the nature of agency and choice, and the extent to which constrained choice is still choice? Is it possible for young women to be regarded as agentic beings while using their sexuality to access food and temporary security? The role of agency is often viewed as essential in securing assets for protection, with issues of power underpinning the ability to succeed or not [9, 66]. Rutter (2001) suggests that key turning points, the opportunities and choices which might be offered, are the most significant factors in determining resilient outcomes [67]. Power and control are seen as defining the parameters of how and to what extent one can adapt to adversity. Others challenge this focus on personal agency, advocating the prioritisation of addressing structural oppression and social inequalities [68–70]. Seccombe asks, for example, 'Can families be expected to become resilient without significant structural change in society?' (p.389) [68]. The ecological examination completed above shows that attention needs to be paid to multiple environments and, more importantly, the relationships between them. While young women may be placed at increased risk by institutional level factors in relation to a particular SRH outcome (such as health clinics being destroyed), for example, the additional risks created could be mitigated against (or further increased) at other levels.
Blum and Mmari (2005) conclude that more studies which identify risk and protective factors for young people focus on individual level factors on SRH rather than contextual factors [1]. Although little is known about the structural and contextual factors which protect young women against poor SRH outcomes even in contexts of relative peace, [1] it is known that these are significantly affected by conflict. Drawing protection from resources at a structural level may therefore not be an option. Young women may have to rely on personal or family assets which serve to protect and increase personal agency while at the same time also increase vulnerability to SRH risks. Indeed, Petchesky (2008) argues for the need to reconnect 'bodies' to new communities in times of insecurity [65]. Across the literature there was a scattering of examples of women creating new communities of protection while in contexts of insecurity. For example, Petchesky (2008) reports that:
'In Darfur, where the traditional gender division of labour famously assigns women and girls the task of roaming to collect firewood, resulting in a very high incidence of rapes and assaults, committees of women leaders have organised "firewood patrols" which have, in turn, become a forum for discussing and resolving common concerns.' (p. 8) [65].
Connecting young women to each other and providing opportunities for action appear to be important actions to facilitate the development of grassroots strategies which support safe negotiations of SRH. Providing young women and their families with access to resources they need to protect themselves recognises the important role of both agency and structure in protection. However, it is not the role of 'health' or 'women's' professions alone to support these processes. It is important that professionals working in response to a wide range of concerns in conflict recognise the interconnected nature of SRH with livelihoods, education, gender equality and human rights, and the role that other types of intervention can play in facilitating good SRH [32, 57, 65]. Sexuality and SRH interface with all aspects of life, and therefore need a more integrated response. Efforts to protect young girls and support safe SRH practices should be mainstreamed within all responses to conflict, and vulnerable groups identified and supported. Humanitarian responses focus on meeting survival needs but frequently do not address the cause of, or reasons for, vulnerability [26]. If early marriage or transactional sex is used to secure livelihoods or physical protection, for example, then a focus on improving livelihoods and security might have the biggest impact on improving SRH outcomes.
It is clear that conflict breaks down many protective factors across different environments that might have previously been put into place. However, from the literature available it is difficult to confidently account for how some young women manage to safely negotiate positive SRH outcomes. None of the studies documented accounts of young women successfully negotiating SRH that did not involve putting themselves at risk of some poor sexual outcomes through engaging in risky behaviours. Not enough is known about the difficult choices young women make when there are no 'positive' (and safe) choices available (choices without the risk of significant costs in the future) in relation to their SRH. There also appears to be little consideration of the potential paths of resilience during conflict for young women and the protective factors which alter the trajectory from exposure to risk to poor outcomes [9]. It is clear that significant risks will be present in these contexts that may not be avoidable, and yet it is not clear what might prevent or 'buffer' the impact of such risks upon an individual and SRH outcomes. The role of post-conflict care in mediating or 'buffering' the long-term impact of exposure to such risks is therefore critical, although it is not clear whether there are informed strategies for facilitating this.
The protective resources that a community may hold themselves are not always recognised or appreciated and are sometimes unspectacular, but can be found in the daily activities and struggles of people's lives [71]. Differences between risk and protection are sometimes only subtle, difficult to predict and only identifiable when family life (girls/young people's lives) are examined in detail [72]. Ungar, taking a social constructionist approach to the resilience concept, emphasises the need to listen to marginalised and silenced voices - rather than just those of the privileged and powerful - so as better to understand localised definitions of resilience, risk and protection [4]. Interpreting and responding to what is heard poses a challenge as it may not fit with western /professional values/ethical or personal beliefs, particularly around ingrained and sanctified notions of rights/oppression. Humanitarian interventions run the risk of unintentionally propagating Western concepts as definitive knowledge and impairing the recovery and rebuilding process post-conflict. Framing young women solely as victims potentially hides or undermines their resilience and resourcefulness, for example [73]. Yet, research is needed which allows a contextual understanding of protective factors which alter the trajectory of risk exposure to poor SRH outcomes for young women affected by conflict [9]. Identifying these processes has potential to support millions of young women around the world to safely negotiate their SRH needs at a time when they may be prioritised by no one else.
Conclusion
This paper adds to the emerging literature on the SRH of young women affected by armed conflict by considering the impact that conflict can have on risk and protective environments. A literature overview on the risk and protective factors for SRH in armed conflict has formed the basis for this paper, with findings mapped onto an adapted ecological model to present the ways risk and protective factors, and processes, are evidenced promote or undermine young women's SRH in conflict. Having considered the findings, we have argued the limitations to traditionally recognised static universal models and understandings of risk and protection, proposing that notions of risk and protection must be nuanced and understood as contextually dependent. We have argued the need for developing frameworks that are able to take account of the dynamic fluidity of risk and protection, so that processes and 'turning points' to achieving greater SRH for young women can be identified, understood, and promoted. While acknowledging the important role of agency and choice in securing or undermining a young women's SRH, we have pointed to the need to explore and reconceptualise the complex nature of individual agency set within wider structural influences that may shape or determine their ability to secure good SRH outcomes. We have discussed the dynamic relationship between individuals, their wider environment, and the complex and often contradictory ways in which protective or risk processes may play out within those environmental levels. This highlights limitations of an individualistic approach to understanding and promoting SRH, and supports the need for ecological based approaches to promoting SRH protective environments for young women. This paper offers no easy answers to the challenges of improving SRH outcomes for young women affected by armed conflict; rather, it seeks to 'shake up' any taken for granted assumptions on risk and protection by providing insights into their complexity, pointing towards a need for further work. Such further work will need to take into consideration the processes of protection, the prioritisation of risks, risk trade-offs and the price of protection.
Abbreviations
DRC:

Democratic Republic of Congo
IDP:

Internally Displaced Persons
SGBV:

Sexual and Gender Based Violence
SRH:

Sexual and reproductive health
UN:

United Nations
UNFPA:

United Nations Population Fund
UNHCR:

United Nations High Commissioner for Regugees
Declarations
Acknowledgements
The authors are grateful to the Faculty of Social and Human Sciences, University of Southampton, for the award of a grant from the Strategic Interdisciplinary Research Development Fund.
Funding
The review was funded by the Faculty of Social and Human Sciences, University of Southampton through a small grant from the Strategic Interdisciplinary Research Development Fund. The funding body had no role in the review process or the development of this paper.
Availability of data and materials
Not applicable.
Authors' contributions
AH led on the analysis of the literature reviewed, and wrote the first and final draft of the paper. PW completed the literature review and contributed to the writing of the paper. JM contributed to the discussion on resilience, while SN contributed to the background section on SRH in contexts of armed conflict. RI contributed to some analysis and took on role of internal editor. All authors read and approved the final manuscript.
Ethics approval and consent to participate
Not applicable.
Consent for publication
Not applicable.
Competing interests
The authors declare that they have no competing interests.
Publisher's Note
Springer Nature remains neutral with regard to jurisdictional claims in published maps and institutional affiliations.
Open AccessThis article is distributed under the terms of the Creative Commons Attribution 4.0 International License (http://creativecommons.org/licenses/by/4.0/), which permits unrestricted use, distribution, and reproduction in any medium, provided you give appropriate credit to the original author(s) and the source, provide a link to the Creative Commons license, and indicate if changes were made. The Creative Commons Public Domain Dedication waiver (http://creativecommons.org/publicdomain/zero/1.0/) applies to the data made available in this article, unless otherwise stated.
Authors' Affiliations
(1)
Institute for Applied Social Research, University of Bedfordshire, Luton, UK
(2)
Centre for Social Development in Africa (CSDA), University of Johannesburg, Johannesburg, South Africa
(3)
Faculty of Wellbeing, Education and Language Studies, The Open University, Milton Keynes, UK
(4)
Health Sciences, University of Southampton, Hampshire, UK
(5)
Department of Social Statistics and Demography, University of Southampton, Hampshire, UK
(6)
Centre for Sexual Health Research, Psychology, University of Southampton, Southampton, UK