Mechanisms underpinning interventions to reduce sexual violence in armed conflict: A realist-informed systematic review
Conflict and Health
2015
9:19
Received: 19 December 2014
Accepted: 29 May 2015
Published: 13 July 2015
Abstract
Sexual violence is recognised as a widespread consequence of armed conflict and other humanitarian crises. The limited evidence in literature on interventions in this field suggests a need for alternatives to traditional review methods, particularly given the challenges of undertaking research in conflict and crisis settings. This study employed a realist review of the literature on interventions with the aim of identifying the mechanisms at work across the range of types of intervention. The realist approach is an exploratory and theory-driven review method. It is well suited to complex interventions as it takes into account contextual factors to identify mechanisms that contribute to outcomes. The limited data available indicate that there are few deterrents to sexual violence in crises. Four main mechanisms appear to contribute to effective interventions: increasing the risk to offenders of being detected; building community engagement; ensuring community members are aware of available help for and responses to sexual violence; and safe and anonymous systems for reporting and seeking help. These mechanisms appeared to contribute to outcomes in multiple-component interventions, as well as those relating to gathering firewood, codes of conduct for personnel and legal interventions. Drawing on pre-existing capacity or culture in communities is an additional mechanism which should be explored. Though increasing the risk to offenders of being detected was assumed to be a central mechanism in deterring sexual violence, the evidence suggests that this mechanism operated only in interventions focused on gathering firewood and providing alternative fuels. The other three mechanisms appeared important to the likelihood of an intervention being successful, particularly when operating simultaneously. In a field where robust outcome research remains likely to be limited, realist methods provide opportunities to understand existing evidence. Our analysis identifies the important potential of building in mechanisms involving community engagement, awareness of responses and safe reporting provisions into the range of types of intervention for sexual violence in crises.
Keywords
Sexual violenceConflict and crisis-related sexual violenceArmed conflictHumanitarian crisisInterventionsRealist approachSystematic review
Background
Sexual violence is now well recognised to be a consequence of armed conflict [1–9], with a recent global summit convened by the British Foreign Secretary attended by delegates from 123 countries. Twenty one per cent of female refugees and internally displaced people in complex humanitarian emergencies have experienced sexual violence according to a recent review across 14 countries [10]. We define sexual violence as "sexual acts committed against a person, or in which a person is caused to engage by force, threat of force or coercion such as that caused by fear of violence, duress, detention, psychological oppression or abuse of power, or by taking advantage of a coercive environment or a person's incapacity to give genuine consent" [11]. 'Conflict' here refers to armed conflict between state or other militias, excluding civil disorder and terrorism. Other humanitarian crises, particularly natural disasters, involve many of the same risk factors for sexual violence as armed conflict, particularly displacement, breakdown of social and legal systems, and dependence on humanitarian workers or security forces [12, 13], and warrant consideration along with conflict settings in terms of this issue. Sexual violence during armed conflict is a public health as well as a security and justice issue [14] with significant leadership being demonstrated by the World Health Organization [14, 15]. Its intervention recognises the significant short and long-term health effects, which include injury, HIV, sexually transmitted infections, unwanted pregnancies, traumatic fistulae, depression, post-traumatic stress disorder, anxiety, stigma and social rejection.
Recent years have seen rapid expansion in programs across different sectors to address conflict and crisis-related sexual violence [16, 17]. We identify seven types of intervention: i) provision of care for survivors of sexual violence; ii) initiatives to enhance livelihoods of women and so provide protection from sexual exploitation and abuse; iii) community mobilisation strategies to increase awareness and mutual protection; iv) initiatives directed at personnel providing services or protection (such as gender-specific recruitment of security staff and codes of conduct for military, security or aid workers prohibiting sexual contact with community members); v) systems and security responses (such as firewood patrols or segregated washing facilities in refugee camps); vi) legal interventions; and vii) multiple-component interventions which integrate two or more of these strategies. There is an urgent need to gauge the impact of these interventions, while the interactions between these types of intervention, for example the need for medical evidence to be gathered in order for prosecution to occur, point to the value of a broad view.
Previously we reported on a narrative systematic review of the evidence for reduced risk or incidence of sexual violence from the range of intervention types [18]. The most positive outcomes were linked to interventions with multiple components and where community engagement had occurred. However, few details of interventions were provided and outcome studies were generally of limited quality. A separate systematic review on health interventions in humanitarian crises or conflict concurred that evidence in respect of gender-based violence (GBV) is limited, calling for more information on the context of GBV and new methodological approaches to understanding this problem [19]. A third review focusing on mental health and psychosocial support interventions after sexual and other forms of GBV in armed conflicts tentatively concluded that benefits occurred, though noted that robust conclusions on the effectiveness of particular approaches were not possible [20].
The paucity of evidence in this area does not, we believe, reflect indifference. The challenges of undertaking research in crisis settings, particularly on a topic as sensitive as sexual violence, are considerable [21] and it remains likely that the canon of evidence on interventions will be slow to build. There is merit in an alternative approach which involves analysis of existing studies to identify both mechanisms which underpin successful interventions as well as the contextual factors which are required for these mechanisms to operate. Realist methods offer such an opportunity, providing a path to making use of the limited data on interventions in the field.
The realist approach to research recognises that social problems and therefore interventions to address them are complex [22]. It is increasingly used to study complex interventions [23] where traditional approaches to evaluation or review, which determine solely whether or not an intervention works, have been less productive [22, 24]. Traditional systematic reviews such as those undertaken with the Cochrane Collaboration, generally privilege evidence gathered by means of randomised control trials. However, there is now greater recognition that a wide variety of study designs are required to evaluate public health interventions, with no single method able to answer all relevant questions about effectiveness [25]. Realist review methodology has been applied to primary research as well as systematic reviews on the evidence for interventions as diverse as: retention of health workers in remote areas [26] and implementation of routine screening for intimate partner violence [27]. The approach is applicable here as sexual violence in conflict and crisis is a complex social and legal problem.
A realist approach highlights the importance of the context in which interventions are implemented and the different levels at which they operate. The impact of interventions depends on the social and cultural context within which they are introduced, with the result that the same interventions can have different outcomes in different contexts. The approach also aims to understand an intervention's underlying theory of change by postulating mechanisms [28] which are triggered by the interaction of the context and the intervention. These theories are then tested and refined in the synthesis process [28], illuminating the possibilities for applying the same mechanism to other interventions and to different contexts.
We build on our earlier narrative analysis of identified studies [18] and report here on the realist analysis where we aimed to answer the question: what are the underlying mechanisms by which these interventions appeared to bring about reduced risk or incidence of sexual violence? Recognising the effectiveness of multiple-component interventions, we focus first on the mechanisms that seem to underpin these, and then those evident in stand-alone interventions, where sufficient data exists.
Methods
Realist reviews take an exploratory, interpretive approach to examine the links between the contextual factors and mechanisms that contribute to outcomes [23], and as such are different from many other reviews [29]. Mechanisms are "underlying entities, processes or structures which operate in particular contexts to generate outcomes of interest" [24] (p 2). The realist approach identifies the mechanisms involved in an intervention to understand how it is intended to work [28] then tests these mechanisms against the empirical evidence of outcomes [22, 24, 29].
Similar to the PRISMA guidelines for reporting traditional systematic reviews, the RAMESES standards guide reporting of realist systematic reviews [24]. The methods used are reported in line with the four stages of the review as outlined in these guidelines, that is: i) exploratory scoping; ii) proposal of theory; iii) data search and extraction; and iv) data synthesis.
Results
Results of the search strategy are reported in Fig.
1
. Twenty studies were included: 11 identified from websites, one from a key informant and the remaining 8 through bibliographic databases. The studies were conducted in 17 countries predominantly in Africa with Rwanda being the country in which most studies were conducted (4). Nine studies addressed sexual violence which occurs in conflict settings, with 11 addressing post-conflict settings. No outcome studies addressed the disaster setting. 20 additional studies which reported on interventions, but which did not include outcomes informed the analysis. One of these was disaster focused [
37
]. Table
2
describes the included studies differentiated by intervention type. For the most part the studies reported on separate programs, although two included data on the Médecins Sans Frontières program in Congo [
38
,
39
], and two others reported on the International Criminal Tribunal for Rwanda [
40
,
41
].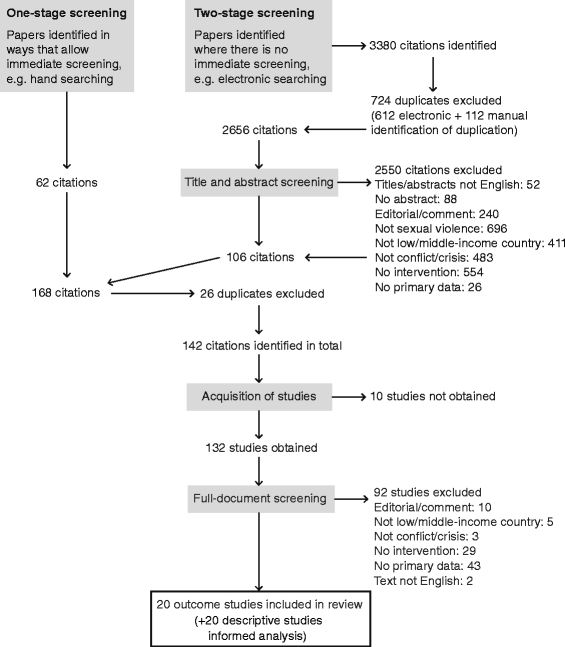 The proposed mechanisms underpinning interventions developed by the team are first described, followed by the realist analysis. We initially proposed six mechanisms which, separately or in combination, might underpin interventions for sexual violence in conflict and crisis. These mechanisms relate mostly to the reasoning of the various actors involved [23], whether perpetrator, survivor or community, as is reflected in the names of each. Table 1 summarises the intervention types, proposed underpinning mechanisms and the associated outcomes.
Proposed underpinning mechanisms
Evidence of operation of mechanisms
In describing the results we focus on interventions where there was sufficient material to draw inferences or conclusions about the operation (or lack of operation) of mechanisms. We found nine studies that showed evidence of reduced risk or incidence of sexual violence. Multiple-component interventions tended to be associated with greater evidence of reduced risk or incidence and are presented first. This is followed by findings from single-component interventions, presented in the order of most promising outcome.
Mechanisms not supported by the data
Two of our proposed mechanisms were not supported by data from the included studies. The first of these, 'Rape is unacceptable', proposed that offenders or potential offenders desist as a result of attitude change. No studies of the impact of men's behaviour change programs were identified in our search. However since this date a pilot trial of a 16 week men's discussion group aimed at preventing intimate partner violence in conflict zones in Cote d'Ivoire, found changes in men's reported ability to control hostility and manage conflict but not significant changes to reported physical or sexual violence [65]. As a result capacity to determine whether this mechanism underpins effective interventions is limited. The second mechanism for which we found no evidence was 'We have rights'. We acknowledge that in the crisis context it would be challenging for studies to directly explore decisions about whether to take action with sexual assault survivors, which would be necessary to test the presence or absence of this mechanism.
An unanticipated mechanism
A mechanism which we had not anticipated was 'We already have ways to address this problem', which we defined as recognition by those providing interventions of pre-existing capacity or systems within the community to address sexual violence. It was evident when community members used strategies to address sexual violence which derived from existing cultural practices. Examples included mutual support groups in Rwanda which drew on traditional concepts of kwihanga (withstanding), kwongera kubaho (living again), and gukomeza ubuzima (continuing life/health) to enable women to make meaning from their experiences and build resilience [66].
Two other studies provided further support for this mechanism. A program for adolescents recruited into the Lord's Resistance Army who were both survivors and perpetrators of sexual violence employed traditional healing rituals. Performed by elders and involving traditional music, dance and cleansing rituals, this program aimed to exonerate and remove shame [67]. In a Kenyan refugee camp, survivors used a hierarchy of responses to deal with gender-based violence, first attempting to resolve it themselves or with family, then through elders, with external agencies as a last resort [68]. The author reported significant community resistance to the 'gender equality lens' of service provision by international NGOs, seen by men in the community as "harming the family and community" [68], and noted the potential of community-derived programs. The mechanism 'We already have ways to address this problem' recognises that existing strategies may be more likely to be embraced by communities, in contrast to interventions reflecting western ideas, which may be seen as divisive [46, 54].
Discussion
Adopting a realist approach has enabled us to consider whether interventions work or not, and what mechanisms may have contributed to this. Although data was limited, our preliminary hypothesising and analysis strongly supported three proposed mechanisms as underpinning effective interventions for conflict and crisis-related sexual violence: 'We can work together to address this problem', 'There is help for this problem', and 'It's safe to tell'. Surprisingly, these three mechanisms appeared to be central across diverse types of intervention, including multiple-component interventions. For example, there is evidence of the mechanism 'We can work together' in systems and security strategies. Similarly, personnel interventions appear to require knowledge of service availability and safe reporting. Further, it appears that having these mechanisms operating simultaneously contributes to greater likelihood of success. Although we assumed that perpetrators' recognition that 'Rape is risky' was a central mechanism in deterring sexual violence, the evidence suggests that this mechanism operated only in interventions focused on gathering firewood and providing alternative fuels. The other interventions identified in this review did little to deter sexual violence. The results also suggest that in order for this mechanism to operate, the other three mechanisms may also be required to support its operation.
Alignment of findings with other research
Support for the centrality of the three mechanisms 'We can work together to address this problem', 'There is help for this problem', and 'It's safe to tell' are confirmed by other recent studies. A community prevention program implemented in post-conflict settings in South Sudan, Uganda, Thailand, Liberia and Rwanda, used local production and playback of videos produced to address local concerns in relation to gender-based violence, including engagement of local community leaders to provide strong support for the project [69]. The qualitative study suggested that community changes included; cultural norms permitting early girl marriages; recognition of forced marriage and gendered violence as a punishable crime; and an increased uptake of GBV services; these successes mainly as a result of the inclusion and strong support of the local community leaders [69]. Similarly the introduction of a mobile clinic in South Kivu, DRC was supported by first building local partnerships with existing health administrators, and consultation with local experts at each of the six sites, promoting the service through community health workers, resulting in strong uptake of services; and finally, locating the service in existing health services and extending it to those who had not experienced sexual violence to protect anonymity [70].
The failure of the 'Rape is risky' mechanism in most interventions is supported by evidence that weak legal and social sanctions are risks for sexual violence [71]. Without apprehension and punishment of offenders, little can be expected in terms of prevention. The fact that this mechanism was triggered in only a few interventions is consistent with other literature. For example, prosecutions of police and peacekeepers for sexual violence was a deterrent only in the rare instances in which high-ranking commanders were held to account [72]. It is essential that where legal action is taken, that determinations do not further victimize survivors with separate evidence that forced marriages to the perpetrators or fines been paid to the family for harm done can serve to expose survivors to further abuse and stigma [73].
The mechanism 'It's safe to tell' fits with Ho and Pavlish's [48] emphasis on the critical role of empowering women in refugee camps and removing barriers to recognising and demanding their rights in relation to gender-based violence. Further evidence of the importance of this mechanism is found in recent research in conflict and post-conflict settings which found that low and late attendance at health services for care after sexual assault was attributable in part due to fear experienced by survivors [74]. The same study also provided support for 'There is help for this problem,' with evidence that many referrals to the service occurred through the work of "counsellor mothers" a network of trained community advocates who provided localised awareness of the availability of the service including making direct referrals. The South Kivu outreach program identified that women under 20 years were not accessing the clinics, so for this group it was not 'safe to tell'. Consultation revealed this was due to young women's fears of damage to marriage prospects if they were identified attending clinics and by default as being sexually active. Additional strategies were being explored to address this mechanism through for example integrating health care with socio-economic interventions [70].
The need for the mechanism 'We can work together to address this problem' has also been noted elsewhere, with findings that building and nurturing trust with civil society organisations [75] and consultation with all segments of the community are key responses to gendered violence [76]. Without consultation, programs for conflict-related sexual violence risk being ill-adapted to local traditions and culture, and are likely to be rejected by the women they are designed to assist [6]. The central idea of the mechanism 'We already have ways to address this problem' has also previously been expressed, for example through recognition that women already engage in community-based initiatives relevant to Security Council Resolution 1325 [77] and is supported by findings of the importance of indigenous expertise in developing sustainable strategies in conflict and post-conflict settings [70].
Strengths and limitations of the review
This is the first review adopting a realist frame in this important but under-studied area. The approach enabled us to investigate the mechanisms underpinning the intervention types and their contribution to the success of the interventions. This provides a strong base for more focused research in this area. The review was, however, limited by the low weight of evidence in most of the identified studies, due to factors such as small sample sizes, self-selection of participants, reliance on qualitative data, lack of robust outcome measures and limited data enabling identification of relevant contextual factors. We may have overlooked some relevant studies because their key words, title or abstract do not explicitly refer to addressing sexual violence or to conflict, post-conflict, crisis or refugee settings, or were in languages other than English.
Implications for practice, policy and research
This work reinforces the importance of integrated, multiple-component interventions to address sexual violence in conflict and crisis, which may be supported by the operation of three key mechanisms, 'There is help for this problem', 'It's safe to tell' and 'We can work together to address this problem'. The analysis also highlights the value of the same mechanisms in diverse stand-alone interventions, that is, in systems and security responses, personnel interventions, legal responses, and survivor care services. Despite the distinct differences between these types of intervention, the same mechanisms appear to be important to their successful operation. Legal strategies appeared to be lacking in their capacity to provide safety to survivor witnesses, and this absence of the mechanism ('It's safe to tell') would seem to support its place in a successful intervention. For service providers and policy makers designing new programs, the results point to the merit of incorporating these mechanisms to maximise safe uptake of services and ultimately deterrence of sexual violence. The mechanism 'We already have ways to address this problem' points to the need to determine whether communities already have strategies in place to address sexual violence which may be preferred or that can be incorporated into introduced interventions, prior to their commencement. This would be respectful of community values and capacity and would potentially improve the acceptability of interventions.
Further research is required to fully test the proposed mechanisms. This requires robust evaluation of multiple-component programming among other types of intervention, with attention to gathering and reporting critical contextual information. Careful development and rigorous evaluation of such studies will enable the mechanisms proposed here to be validated, refuted, extended or refined.
Conclusion
Realist approaches offer opportunities to identify underlying mechanisms that are central to the success or failure of programs, recognising the challenges which will prevail in undertaking research in conflict settings and drawing more deeply on existing research. Such findings can then be built into the design of interventions and delivery of programs to reduce conflict and crisis-related sexual violence.
Footnotes
1
Medline (PubMed on Ovid), CINAHL, PsycInfo, PAIS, Global Health, ASSIA, Gender studies, Violence & Abuse Abstracts, Wageneingen University Disaster Studies, ProQuest Dissertations & Abstracts, Lexis-Nexis, UNICEF Children in armed conflict, GDNet Knowledge Base, African Journals Online, 3ie database of impact evaluations, Bibliomap & TRoPHI (EPPI-Centre), World Health Organization Library (WHOLIS), EBM Reviews, Cochrane Database of Systematic Reviews, Johanna Briggs systematic review and Campbell Collaboration databases.
2
As an example the search terms from Medline were as follows: "abused women" [text words] OR "abused woman"[tw] OR "forced sex"[tw] OR "enforced sex"[tw] OR GBV[tw] OR "gender based violence"[tw] OR rape[tw] OR raped[tw] OR rapist[tw] OR raping[tw] OR "sexual abuse"[tw] OR "sexual coercion"[tw] OR "sexual violence"[tw] OR "sexual assault"[tw] OR "sexual exploitation"[tw] OR "sexual slavery"[tw] OR "violence against women"[tw] OR "unwanted sex"[tw] OR "unlawful sex"[tw] OR "sexual exploitation and abuse"[tw] "militarised sexual violence"[tw] OR "forced pregnancy"[tw] OR "enforced pregnancy" [tw] AND "armed conflict"[tw] OR "armed incursion"[tw] OR "post conflict"[tw] OR "human security"[tw] OR "war zone"[tw] OR coup[tw] OR invasion[tw] OR insurrection[tw] OR "peace keeping"[tw] OR "peace building"[tw] OR "child soldiers"[tw] OR "boy soldiers"[tw] OR "internally displaced persons"[tw] OR "displaced populations"[tw] OR "displaced persons"[tw] OR "refugee camps"[tw] OR "humanitarian response"[tw] OR "humanitarian assistance"[tw] OR "humanitarian crisis"[tw] OR "humanitarian crises"[tw] OR "post-crisis" [tw] OR "post-crises"[tw] OR war[mesh heading] OR Refugees [mh] OR Disasters [Mesh:noexp] OR Disaster Planning [mh] OR Mass Casualty Incidents[mh] OR Relief Work[mh] OR Rescue Work[mh] OR Avalanches[mh] OR Earthquakes[mh] OR Landslides[mh] OR Tidal Waves[mh] OR Tsunamis[mh] OR Volcanic Eruptions[mh] OR Fires[mh] OR Cyclonic Storms[mh] OR Floods[mh].
Abbreviations
CMO:

Context, mechanism and outcome
GBV:

Gender-based violence
NGO:

Non-government organisation
Declarations
Acknowledgements
This review was funded by the Australian Agency for International Development (AusAID), commissioned as part of a joint call for systematic reviews with the United Kingdom Department for International Development (DFID) and the International Initiative for Impact Evaluation (3ie). DFID, 3ie and AusAID proposed the initial review question, and officers from AusAID provided feedback on the protocol and draft findings. We are indebted to team members Lea Steinacker and our Advisory Group for their patient and thoughtful contributions over the life of the project: Claudia Garcia-Moreno, Anna Whelan, Sarah Chynoweth, Barbara O'Dwyer, Chen Reis, Louise Chappell, Sophie Read-Hamilton, Sarah W. Spencer and Kavitha Suthanthiraraj. Particular thanks to Chen and Sophie for participating in mechanism development. Many thanks to Sandy Oliver, Carol Vigurs, Mukdarat Bangpan, Jeff Brunton and Claire Stansfield from EPPI-Centre for guidance and support in managing the review, Gil Westhorp for realist training and advice, Karen Hobday for contributing to the conceptual framework and Tymon Kennedy (AusAID) for his responsive support.
Authors' Affiliations
(1)
School of Social Sciences, University of New South Wales, Sydney, Australia
(2)
School of Rural Medicine, The University of New England, Armidale, Australia
(3)
Centre for Primary Health Care and Equity, University of New South Wales, Sydney, Australia
Copyright
© Spangaro et al. 2015
This is an Open Access article distributed under the terms of the Creative Commons Attribution License (http://creativecommons.org/licenses/by/4.0), which permits unrestricted use, distribution, and reproduction in any medium, provided the original work is properly credited. The Creative Commons Public Domain Dedication waiver (http://creativecommons.org/publicdomain/zero/1.0/) applies to the data made available in this article, unless otherwise stated.